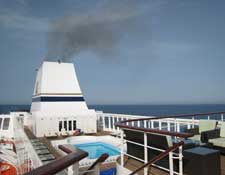 But Voyages to Antiquity sounded so wonderful on paper…
We travelled on the Aegean Odyssey in June, and what follows is a detailed review of our experience and a deconstruction of their brochure to demonstrate how they simply failed to deliver on their marketing hype. We were spending our own money (I have no connection with the travel industry) which explains this webpage. We're avid readers of Tripadvisor, and we first read the bad reviews, screening out those that are from people that clearly chose a hotel based on little or no research. If there are a sufficient number of genuinely bad reviews, there seems little point reading the good ones. This review is the one I wished we'd seen before we booked. Text in dark red is from V2A's literature; clicking on each thumbnail photo opens a larger version in a new window.
"Choosing a holiday is a big decision"
And sadly it's one we got wrong. In April 2010, three of us booked their third ever cruise (the maiden voyage was May 4, 2010) and our excuses are that there were no reviews at the time, and that we were seduced by the itinerary, the included package of excursions, and the fact that "house wines from countries we will visit" were included with dinner. That the ship had been "entirely rebuilt" immediately prior to our holiday seemed a bonus, since the ship would be, in many respects, brand new. Now nobody likes to admit they have mucked up, but we feel we owe it to our fellow cruisers (especially those that have cruised before on a 'proper' cruise line) to warn them. OK, the holiday was cheap, but if you see their brochure, it seems fairly upscale, thus the company is not positioning itself at the cheap end of the market and you might therefore assume that these early cheap prices are to gain market share, rather than because the ship is old and deficient and because the catering, admin etc were all below par. Now you could argue that much of this is subjective, but what is not subjective are the Paris MOU Inspection Reports the ship received first on 10 May 2010, six days after it set sail on its inaugural cruise, which revealed 27 'deficiencies', then 11 weeks later on 27 July 2010 which revealed 'only' 8. (NB you might not wish to read these reports if you're booked to travel and are of a nervous disposition.) Three questions: 1. Why was it not held in port in May until these things were put right? 2. Was this first inspection triggered by the fact that ownership of the ship changed on 30 April 2010? 3. Why was its registration switched from Greece to Malta on 1 April 2010?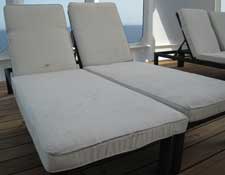 Inside the brochure "you will…find all you need to know about our ship, the Aegean Odyssey"
I think not. There are two problems with the brochure: first, much of what it does contain is hyperbole written many months before the first cruise ["your waiter will remember whether you take coffee or tea, and the barman whether you like your martini shaken or stirred" which reads like some trainee copywriter's wet dream] and second is what it does not contain. We knew the ship was old and remodelled before we booked, but the assertion that "The Aegean Odyssey is a premium class ship" is laughable, it is basically a clapped-out wreck. It may have some premium class cabins, but the ship itself belched black smoke virtually 24/7, even when stationary (see above and top left). Everything aft of the funnel got covered in soot the whole time, including in your breakfast coffee, juice and milk jug. And since they also left the seats and lounger cushions out 24/7, the combination of dew and soot meant that the seats you got to sit on for breakfast or lay on round the pool would therefore be damp and dirty (see left). You could obviously forget wearing any light-coloured shorts or skirt around the ship.
"A good night's sleep"
But as well as the muck from the funnel there was the incessant din and vibration throughout the ship — particularly if you were aft and on deck 4 and below. The brochure heading above then bangs on about fine bedlinen, however the highest threadcount in the world is useless if your cabin is so noisy that you can't get the aforementioned good night's sleep. I reckon that you can gauge the quality of a cruise ship by whether its cheaper cabins are nevertheless tolerably quiet and comfortable, in which case I reckon these guys will struggle to fill the ship. Web poster Boronia on the 27 July cruise said that "there were only 161 guests and a total of 179 crew" — a load factor of not much over 40%. That doesn't of course stop them trying to get forward bookings, but I doubt many people who follow the web will hand over their balance until the current torrent of bad publicity dries up.
The Aegean Odyssey "provides the best features of a mid-size ship such as passenger space"
Now one of the things you learn when you discover cruising is that not all cruise ships are created equal, not even those with same number of passengers. The passenger : space ratio† is an indication of how spacious a cruise ship is, and is derived by dividing the number of passengers into a ship's tonnage. So with a PSR of only 30.6 (well below that of any premium class ship) any suggestion that the Aegean Odyssey is particularly spacious is not credible.
† This has nothing to do with cabin size; that's largely a case of you get what you pay for. However if they were talking about the cabins then I need to point out that neither of the mock-ups of the Inside and Outside cabins shown on p69 of the brochure matches the cabins we had, nor do they match the floor plans on p67. There is no room for the stool shown and we had to ask for it to be removed; basically there is insufficient room to swing a kitten, let alone a cat. Incidentally, the reason we had two cabins is that while we were at dinner one night the bathroom leaked water (at least we hope it was just water) onto the carpet under the bed and in front of the bathroom door (moral: don't leave any clothes on the floor). Housekeeping came and took a look, and promised to fix the problem, dry out the carpet etc in the morning. However, come the dawn, the leak was all the way out into the corridor, hence we got moved. The good news was that the new cabin was merely noisy, rather than deafening.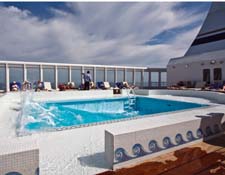 Time for a soak in the pool
Apart from the black smoke and soot, you have to wonder what the people who commissioned the refit were thinking of. I don't know about you, but when relaxing on the sundeck at sea I like to lower myself down the steps into a nice pool, and luxuriate up to my chest, ideally hanging off the rail chatting to my fellow passengers. Well you can't do that here: first the pool is over six feet deep, there's no rail around it to hang on to, and there are only three steps in. But surely keen swimmers can cope with this? Er, No. When at sea, the pool resembles a tidal wave, making entering the pool a mortal hazard (see right). At least one review says the pool was drained while at sea, but this was not the case for most of our voyage. Ironically the ship was docked in Venice overnight at the end of our cruise and the pool was drained while we were in port. Makes you wonder why they bothered having a pool, especially since many people that could have coped with the depth were put off by the fact that the water was freezing cold.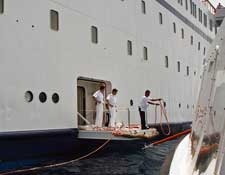 Talking of mortal hazards…
By the end of the cruise, the ship was beginning to resemble a hospital A&E, many of the injuries due to dysfunctional elements of the ship (eg. the lifts). But the most dysfunctional element of all was the ship's tendering, which was shambolic for the whole cruise, even when the sea was like a millpond. Clearly these guys have never done this before, and haven't the faintest idea of how to lash a tender to the side platform; thus it a) took forever, and b) was frankly dangerous. It tells you something when the captain and two other officers have to supervise the process (see left). The antiquated (and therefore slow and inefficient) tenders themselves had a range of problems, including dangerous metal beams that you could easily bang your head on (should have been padded), an exposed drive shaft (just waiting for someone to dangle some clothing in), to nothing to hang onto inside the tender.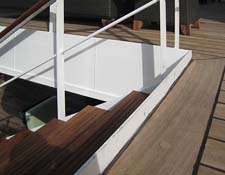 And check out the 2" lip at the top of every external staircase, with no downward warning notice. An accident waiting to happen if ever there was one (see right).
"Wonderful food, good wine"
is a boast of the brochure, which then refers to the Mediterranean's "gastronomic culture of using the very best fresh local ingredients cooked in a simple but delicious and healthy style [being] the inspiration for the restaurants on the Aegean Odyssey" Web poster Seebaer says that "…Gerry Herrod is on top, meaning he dictates pretty much to the Caterer what he likes and dislikes". Hello? GH was not on board, but was shadowing the cruise on his yacht for some of the time, and I seriously doubt that he joined his customers for what was frankly works canteen food, much of it tasting frozen and anything but fresh. To make matters worse, the food put in front of you often bore little resemblance to the courses described on the utterly pretentious menus (check out the brochure for an example, which sounds as if the aforementioned copywriter popped out and borrowed one from some swanky Soho restaurant).
But think of the Italian/Sicilian/Croatian house wine…
"As we are in the Mediterranean, we do not think it is appropriate to serve dinner without wine. House wines are from countries we will visit and are included. Other vintages are available at reasonable prices." This is obviously aimed at people who enjoy decent wine with their meals at home (eg, me), and who wish to continue to do so onboard. The (chargeable) winelist was pathetic, with a nondescript rosé at nearly $30, including the 12.5% automatically-added service charge, while a Chianti (and presumably the rest of their wines) was supplied by a merchant in Piraeus. The house wines were supposed to have been "carefully sourced from Italy, Croatia, Sicily and Greece" but this care clearly had more to do with cost and availability than with quality and topicality; the house wine was 90% Greek [Kretikos, from Crete]; drinkable, but basically plonk. Not one wine from Sicily or Croatia was available on a cruise that circumnavigated Sicily and travelled the length of the Croatian coast.
"Meticulous planning"
The brochure trumpets this but it became obvious within 24 hours of embarkation that the catering and excursion teams were not 'joined-up' (it turns out the Cruise Director had legged it a week or so previously and would not be replaced during our cruise). Meals were served at ludicrous times, although they probably seem normal to anyone living in a care home for the elderly. For example, dinner was often served 18:00-20:00 (they are obviously not planning on attracting any Spanish customers!) Meal times were emphatically not "arranged to suit the shore excursion programme" or other events. For example: an excursion didn't get back on the ship until 18:30 whereas the Captain's cocktail party started at 17:45 (but at least they had the good sense to re-run this a week or so later).
Chaotic administration
This was exacerbated by the hectic schedule, however much of this chaos was made worse by an almost pathological inability of the staff to communicate effectively with passengers. As a tiny example, in Palermo we took advantage of the "frequent nighttime stays in port [with] the opportunity of going ashore to enjoy an after-dinner stroll". We therefore sauntered out of the gates of the port to enjoy some espresso and grappa [at $3.50 for an espresso on the ship we weren't prepared to risk this being as rubbish as the ordinary coffee, and we seriously doubt the bar stocked any grappa]. An hour later, at 21:30, we are confronted by locked gates. Luckily a member of the crew with some bottled water on his shoulder‡ happened by who knew that the gate was shut at 21:00 and he escorted us to the alternative entrance a hundred or so metres away. So why weren't we told about this when they swiped our card as we left the ship?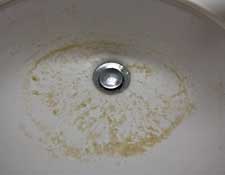 ‡ apparently the crew can't stomach the desalinated water on board, and we have to say it often tasted pretty disgusting. Paul Motter has put up a photo of the brown water that came out of the tap, but here's one I took of what got left behind in the sink.
"The Aegean Odyssey has been designed to offer the sophisticated traveller every comfort at sea"
Oh, really? According to Chambers, one definition of sophisticated is 'someone accustomed to an elegant lifestyle'. Well on our cruise such people were either thin on the ground or were seething with frustration, like us. If you've travelled extensively throughout Europe, and stayed in some pretty sophisticated hotels, enjoying gourmet food, fine local wines, real coffee etc then this ship is as far removed from that type of sophistication as you can get. The food is mediocre, the wines cheap, the coffee tasteless and the breakfasts typical of a cheap motel. As for comfort, I feel sure that the travel press guys in the Owners Suite may have been reasonably comfortable but down in steerage (Deck 4) in your 2'6"-wide bed the situation is a tad different. However, even they can't avoid the sometimes stifling conditions in the main dining room or the lounge (for a lecture or cocktail party) when the air conditioning goes on the blink.
But the lectures will be good, won't they?
Regarding the lectures and how these were organised, the Ambassador Lounge had poor acoustics yet faulty mikes, a small screen, and an old music stand as a lectern. It was badly laid out, since you entered the room near where the speaker was located (rather than as usual, at the back), and it was often flooded with light (making visual aids a nightmare). Leaving part way through a lecture therefore tended to disrupt the proceedings somewhat. The scheduling of the lectures, as with so many other things, was poor. NB there is no cinema.
Are you P.O.S.H.?
All of us are different, but there was one rather petty feature that set our teeth on edge. Now I fully appreciate that if you travel with Cunard, P&O etc they make a big thing out of segregating the various classes of passenger as much as possible, in order to rub the noses of the hoi-polloi in the fact that they are a bunch of cheapskates. It was almost amusing to watch the various unsubtle attempts to give priority to Concierge Class passengers (eg. on tendering and excursion coaches), even though this often resulted in slowing down many processes (which were pathetically slow to start with). Basically if you want to dig deep and have a swanky suite from which you only need to emerge when you leave the ship, I have no problem with that, but otherwise Titanic-style segregation and other manifestations of being P.O.S.H. [Port Out, Starboard Home] belong firmly in the distant past.
In a nutshell
There are a whole load of things about Voyages to Antiquity that are flawed, too many to outweigh the positives of the itinerary and the excursions. On the one hand, some of the problems could be fixed with
a) better training (or more experienced crew),
b) a whole new approach to food and wine, and
c) more joined-up and enlightened thinking on the general management side;
on the other hand are problems that can't be fixed so easily, such as the engine/soot/noise/vibration, stair lips, pool layout/depth. But costs would undoubtedly have to rise (if only to pay for a higher standard of cuisine and better quality table wines) if they implemented the former, and this would make the offering even less attractive, given the difficulties of implementing the latter.
CruisingTalk Manager Neil said "From your report it looks as if there is some major problems with the management on this ship." I think that is only part of the story. Basically Mr Herrod should have stayed retired if this is the best he can do. He bought an 'antiquated' ship (somewhat ironic really), knocked a few pairs of cabins into one, messed about with funnel (and apparently made the soot problem worse!), gave it a lick of paint, bought some nice sunloungers and orange cushions, and then (according to what we were hearing on the ship) ran out of money. And probably also time, since it was still being refurbished during our cruise (among other things we gained a shelf under our sink about a week in). Reports on the web and other sources since we disembarked have detailed a steady stream of things that are being worked on. The last thing you need while you're sunbathing is some guy taking a cutting torch to a stair lip!
So did we complain while we were on board? Well, when we (like many other people on the cruise) expressed our dissatisfaction at numerous issues to reception, we were mostly fobbed off and/or told that there was nothing they could do. But let's imagine some hypothetical questions and answers:
Q. When we arrived on the ship from the flight that your company arranged for us, we discovered that the safety drill¶ had taken place hours before while we were waiting for our bags to arrive on the luggage carousel. To add insult to injury you put a letter under our door telling us that our names were called but that we failed to respond, despite the fact that you knew we could not possibly be aboard, as you had not processed us for embarkation. What do you intend to do about appraising us of the safety drill?
A. Late arrivals will have their own drill tomorrow [as if that was ever likely to happen with the hectic excursion schedule, and it was never mentioned again]
¶ this cavalier attitude to safety, plus the unbelievably inept way they carried out tendering, left us with no confidence whatever that people would all have been fine had there been a real evacuation of the ship.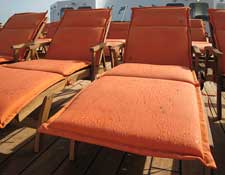 Q. I'm not happy that the funnel belches black smuts all the time over the dining chairs and sunlounger cushions, which are always left out overnight and thus get damp. I now have dirty shorts.
A. There's nothing we can do about the smoke. Do you want your shorts laundering?** [as if that is going to make any long-term difference, and you'll be without them for 24 hours]
** I did in fact send a pair of white shorts to be laundered, at my expense, but when they returned they were still grubby and I asked not be charged. They said they would launder them again but I said No, I wished to wear them the following day. They laundered them again anyway, and it was only when I came to wear them that I discovered they had written my cabin number on the pocket in indelible ink. What would possess anyone to do this; have they never heard of safety pins?
Q. Our cabin is so noisy with the throbbing engine and deafening A/C that we can barely get a wink of sleep, and the beds are far too narrow, at about 2'6" wide.
A. You chose one of our cheap cabins, which are noisier, and there's no room for bigger beds.
Q. The pool is too deep to stand in, being over six feet deep at its shallowest, plus there are only 3 tiny steps to climb down, no rail, and I should have expected to see a lifebelt [of which there are very few around the ship]
A. That's the way it was originally built and it wasn't changed as a result of the refit.
Q. Your brochure says that "meal times will be arranged to suit the shore excursion programme", so can you explain how we are supposed to eat breakfast, return to our cabin to clean our teeth and be ready to disembark by 07:30, when a) you don't start serving breakfast until 07:00 and b) the serving queues are a mile long?
A. The wait staff don't come on duty until 07:00 [some not until 07:30 like the 2nd 'egg man'], staff rotas were planned before we knew the excursion times and it is difficult to change them…blah blah blah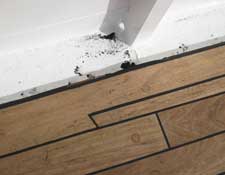 Q. Why do you serve iced water to people around the pool in glass, surely this is dangerous? If someone sitting on the very edge of the pool dropped theirs, you would have to drain the pool and ensure every last shard was gone. Someone has in fact just knocked over and broken their beer glass on the sun deck, and I saw housekeeping sweep the debris into the gutter.‡
A. We have no plastic 'glasses'.
‡ These gutters have soot in them each morning, presumably as a result of hosing down the decks at dawn; see right. By the end of the day the decks are filthy again, as I found out when I walked along the deck barefoot, not to mention moving a piece of furniture to reveal a build-up of sooty debris — so you wouldn't want to accidentally drop your light-coloured top.
Q. We're not happy with being served almost exclusively Greek wine on a cruise that is almost exclusively in Italy, and does not feature Greece.
A. The ship is provisioned in Piraeus and we have loads of this stuff to use up before we can buy any more.
Q. The dishes we have just been served either do not match their description on the menu and/or were of poor quality. For example the bruschetta with beef, came with beetroot (not beef) and the Key Lime pie tasted like rubber.
A. The bruschetta got lost in translation between Indonesian and Greek (or whatever) and the chef has never been to the Keys and thinks that Key Lime pie should taste like that.
A disregard for safety
Self-evident from the above is that there was a dangerous disregard for safety. I have to mention here the lift doors. Normally, when you enter a lift as the doors are closing they spring back (using a magic eye). Not here, they feel like a power press. Apparently some elderly gentleman was quite badly hurt as a result, and he probably wasn't alone. Then there's the stair lips, the absence of sufficient lifebelts, the glass round the pool, before you get to the substandard tender safety, which has the potential to lead to serious injury. On 27 June one web poster said: "We wrote a six page letter of complaint on 31st May to V2A and are still awaiting a response…we had serious concerns about health & safety after our tender ran into the side of the ship throwing five people on to the floor of the tender. The same day there were two other incidents… when the tender ran into a rather sleek private yacht on leaving Skiathos harbour and yet another incident of the tender running into the Odyssey. The seas were not rough and there was no wind. We wrote a formal letter of complaint on the same day to the Captain suggesting that a Health & Safety investigation should be held immediately."
Customer service
This is also dysfunctional, both at HQ and on the ship. As a specific example, our flights (out of Heathrow) were relayed to us via our cruise consolidator, as a result of which we agreed to proceed and paid the full balance, due to the late date. Almost immediately the company came back saying that there were no seats left out of Heathrow, we'd therefore have to fly out of Gatwick. We refused to accept this, saying that we had just been offered and had accepted a firm itinerary, and if they couldn't resolve this we wished to cancel, whereupon seats out of Heathrow were miraculously obtained. In common with many other people's experience, there was never any hint of an apology, merely a 'take-it-or-leave-it' attitude. Complaints on the ship were batted away and mostly not addressed, and we filled in a final questionnaire but unsurprisingly we have not been contacted by them as a result. When it comes to ignoring hostile correspondence, according to the cruisingtalk web forum, David Yellow, their MD, has 'form'.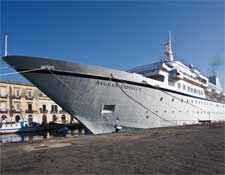 I don't believe it!
By now, most readers will imagine me to be a regular Victor Meldrew and will be wondering whether there was any good news. I can only reply that we wanted very much to like this cruise. The retro lines of the Aegean Odyssey are splendid and when its engines were new it may well have been a pleasure to travel on; but those days are long in the past. So we'd recommend this itinerary and these excursions to anyone, just not on this ship. Also, giving praise where it's due, it was good to see bottled water issued on all excursions, on which the QuietVox systems worked brilliantly.
But don't just take our word for it
There is now a lot of comment on Voyages to Antiquity on the web and some fairly hair-raising stuff appears on a number of web forums. For a collection of reviews by other people, click here.